Duration
6 Weeks
24 Hours

Schedule
Every Monday and Wednesday
19:00 – 21:00

Starting / Ending Date
1 March 2021
8 April 2021
About the Program
Within the scope of this program, which was prepared to gain competent people in Fashion Purchasing and Merchandising, which contains the most important position deficit of today's fashion retail industry, the training curriculum was planned so that the participants who want to work as Buyers and Merchandisers will be able to master the purchasing and procurement processes.
Program Content
What does purchasing mean? Who is a Buyer in the Fashion Sector? What does it do?
What does merchandising mean? What does a Merchandiser do in the Fashion Industry?
What is the place of Procurement and Merchandiser in the Organization Structure? Who does it cooperate with?
An Overview of Roles and Responsibilities
5 P in retail
Data in Retail
– Purchasing Strategy and Budget Planning, Profitability Management
– Product Management, Product Groups and Creating Collection
– Pricing
– Making Sales Trend Forecasting
– Stock management
– Strategic and Tactical Discount / Promotion Management
Customer / Market Analysis
Trend Analysis
Competitor analysis
Annual Retail / Marketing Calendar
Instructor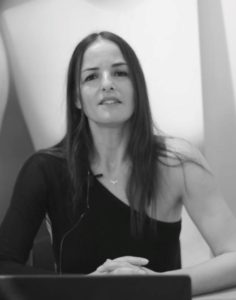 Hande Aral
Hande Aral graduated from ITU Chemical Engineering Department in 1997. Between 1997-2000, she designed product sales points, in-store arrangements, showcases, stands and fairs for various ready-to-wear and fast-moving consumer brands.
Hande completed his master's degree in Industrial Arts / Product Design at San Francisco State University in 2002. The graduate education she received in the USA became a determinant in her career journey by providing her with a different perspective on the world of fashion, design, textile and ready-to-wear.
In 2004 she returned to continue to provide design services in Turkey. In 2005, she started working in Shaya as a merchandiser and brand manager respectively. She received retail management training in the London center of the River Island brand that he manages in Shaya. With the birth of her daughter in 2008, she took a break from her working life.
She returned to the business world with Mavi in ​​2010. In Mavi, where she was the category manager, she took an active role in processes such as trend and competitor analysis, sales, collection with the design team, and creating the first allocation.
In 2014, she started to work as import product supplier relations and merchandising manager in Beymen. She managed the entire process of the products from purchasing to the store with her team.
In 2017, she became the marketing and product manager of Adidas' "Originals" category. Then she took the management responsibility of product managers in all categories of Adidas.
Hande Aral left her job at Adidas in 2019, continues her career as a consultant with the aim of sharing her savings with the participants.