Education Time
19 Weeks
65 Hours

Starting / Ending Date
17 October 2020
13 February 2021
Online Open Day: Thursday, October 1st – 18:00
Program Content
Online 17.10.2020 15:00/17:00
Shoe History: Before and after the date of the Republic of Turkey shoes, forms of life, sociology, history of the world according to climatic conditions shoe
Fashion History: Fashion History, iconic fashion brands and trendsetters. Shoes and accessories in the history of fashion. Shoe and accessory selections suitable for fashion trends.
Online 24.10.2020 15:00/17:00
Shoe Design: Examining the concept of Shoe Designer. Examination of old and new era shoe designers and collections starting from giants such as Manolo Blahnik, Jimmy Choo, Guseppe Zanotti
Online 31.10.2020 Online 15:00/17:00
Shoe Design: Creating collections, sales etc. of current shoe brands that appeal to different target audiences in the world. Examining the strategy.
Foot Anatomy: Foot Anatomy, pressing, weight control, centers of gravity changing according to movement. Orthopedics. Orthopedic shoes. Foot and mold knowledge. Foot disorders based on printing mistakes. Healthy footwear
Online 07.11.2020 – 11:00/16:00
Material Knowledge: Recognition of main and auxiliary materials used in shoes, structure and production of materials
Shoe Production Technology: Shoe production technology, production planning, transition from stamp to product, machinery and equipment used, converting original designs into products
Shoe Production Knowledge: Hand production and assembly. Fabrication production. Production machines and tools
Material Knowledge and Terminology: Leather knowledge, leather types, recognizing and processing leather, pattern, texture, processing, dyeing, printing techniques in leather. Artificial leather, fabric material, nano-technological smart materials
Leather Production Technology: General definition of leather technology, leather processing steps; Soaking, liming, descaling, bating, degreasing, pickling, chrome tan, neutralization, lubrication, drying, preparation for finishing and finishing
Shoe Accessories Information: Accessories used in shoes, buckles, capsules, laces, stones, metal, plastic, handmade, injection accessories.
Class lecture: 14.11.2020 – 10:00/16:00
First hour Production Trip: Accessory and material tour
Starting Shoe Design: Drawing Techniques, Shoe Pattern Drawing, Proportion Proportion
Starting Shoe Design II: Shading and Coloring. Light shadow studies to add dimension. Different painting techniques
Shoe Design Sketches: Transition to first sketch drawings. Examining shoe models
Online 15.11.2020 Sunday 13:00/14:00
Trend Research: What is Trend? How are trends determined? World famous trendsetters. 2020 Trend Analysis. Trend Presentation. – online November 15, Sunday 13:00 to 14:00
Online 21.11.2020 – 11:00/16:00
Concept Creation: Each trainee to create their own design concepts in the light of the researches.
Determining the subject – Creating a Collection: Clarifying the designs, creating a collection of 10 pieces including 4 seasons; Sandals, Flats, Espadrilles, Casual, Sports, Gova, Boots, Boot models
Online 28.11.2020 – 11:00/16:00
Computer drawing techniques: Drawing and painting of designs in computer environment using Photoshop and Illustrator.
Creating a Collection II: Coloring of designs, material selection
Moodboard Preparation: Creating the boards of the designs to be made in accordance with the determined subject
Classroom Course: 05.12.2020 – 11:00/16:00
Stamp 1: Mold banding, profiling, mold inner and outer surface banding, removing stamps for gova and model shoes
Sole Materials: Natural soles, leather (definition, production and differentiation), synthetic soles (PU, PVC, EVA, Neolite etc.), monolithic soles, heels, heel caps, sole fillings, material types, Varola, cabin reinforcement (steel, plastic, wood), nails (types, sizes, places of use), adhesives, cleaners, finishing materials, waxes, varnishes, surface sprays, paints definition and types, examination of the latest developments in materials.
Workshop Lesson-1: 12.12.2020 – 10:00/13:00
Taban Company Trip: Examination of production techniques and material types.
Online 19.12.2020 – 11:00/16:00
Brand Building I: Effects that increase brand value. Successful brand characteristics and brand development principles. The importance of letters and sounds in brand name creation. Positioning the brand in the digital environment. When choosing brand colors, the importance of color in perception and the psychological effects of colors on individuals.
Brand Building II: Creating a brand identity for each student's own collection
Workshop Lesson-2: 26.12.2020 – 10:00/13:00
Examination of shoe production in the workshop environment.
Workshop Lesson-3: 02.01.2021 – 10:00/13:00
Cutting and sewing stamped models by masters in workshop environment
Online 09.01.2021- 11:00/16:00
Material and Accessory Trip I: Material trip to Eminönü and Beyazıt.
Examining accessories and leather samples, collecting material data
Logo & Emblem: The importance of Emblem and Logo in terms of corporate identity. A successful amble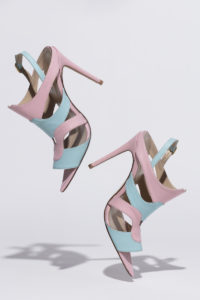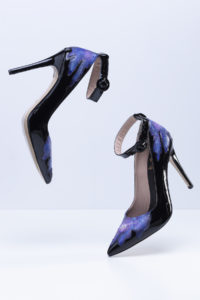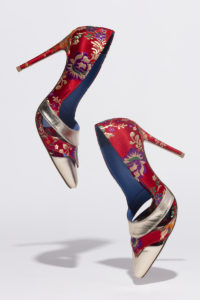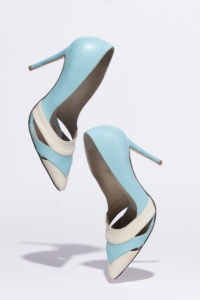 Instructor
Main Instructor: Pınar Arkun
She graduated from İzmir Dokuz Eylül University, Faculty of Fine Arts, Department of Fashion Accessory Design in 2004. The designer won the first prize in the women's category in the 4th National Original Shoe Competition in 2003. She established her own brand in 2009 and prepares personal shoe design and seasonal collections under this brand name. Since then, she has designed shoes for 9 fashion shows within the scope of Istanbul Fashion Week. Since 2014, she has been working as a brand consultant for various shoe companies. Starting from 2014, she has been preparing special collections for Vakko Wedding for 2 seasons. In 2015, she established a second shoe and bag brand named 'Sold' günlük for daily use. She still continues the production and marketing of the London-based MYYAZ brand, which she established in 2020, on the Istanbul – London line.
Technical and Production Process Consultant & Trainer: Özkan Aslan
Özkan Aslan's entry into the shoemaking sector began in 2010 at Hamle 1Ashoe company. Afterwards,he worked at Hes Ay Ayakkabı San. as Collection Design Responsible. Between 2017-2018, worked as Collection Design Responsible at Caracian. Between 2018-2019, worked in Entaş Erdem Aş as Collection Design Responsible.
Digital Education, Portfolio and Brand Building Instructor: Aysun Pelvan
She graduated from Marmara University, Faculty of Fine Arts, Department of Graphic Arts with first degree and completed her master's degree in the same department. Ya-Pa Publications won the first prize in the Children's Book Painting Competition between Universities and received a certificate of achievement in the Children's Book Illustration Contest of the Ministry of Culture with its children's book written and illustrated by itself. Graphic Designers Professional Organization (GMK) exhibitions; Thinkbender brand for corporate identity and İKSV İstanbul Biennial for book design. She participated in various group exhibitions in the fields of printmaking and graphic design. She taught at Yeditepe University Graphic Design Department and worked as an art director in various agencies and design offices. She continues her works in the fields of graphic design, publishing and advertising in her own design office.