2019-2020
FASHION DESIGN AND CREATION
DIPLOMA PROGRAM
The main duty of fashion designers is to plan a collection with their creative ideas and their technical knowledge. Ideas are getting formed first in two dimensional sketches, color scales, preparing ''mood boards'' and technical drawings. A good fashion designer needs to know all the steps from design to production that finalizes a collection.
Duration: 2 and 3 years
Class Schedule: Weekdays (Monday to Friday) 09:30 - 16:30
Starting date: September 2019

Program Language: English (Translators are available in classes.)
Within each study year, projects are realized that support the students in preparing various creations ranging from basic to advanced models. Vakko ESMOD Fashion Academy works closely with the industry, organizing design competitions with leading fashion brands. Creations by students who win awards in these competitions are sold in the stores of the collaborating brands under the student's names. Jury members are chosen from among experienced industry professionals, ensuring that students receive professional feedback, preparing them for their career in the fashion industry.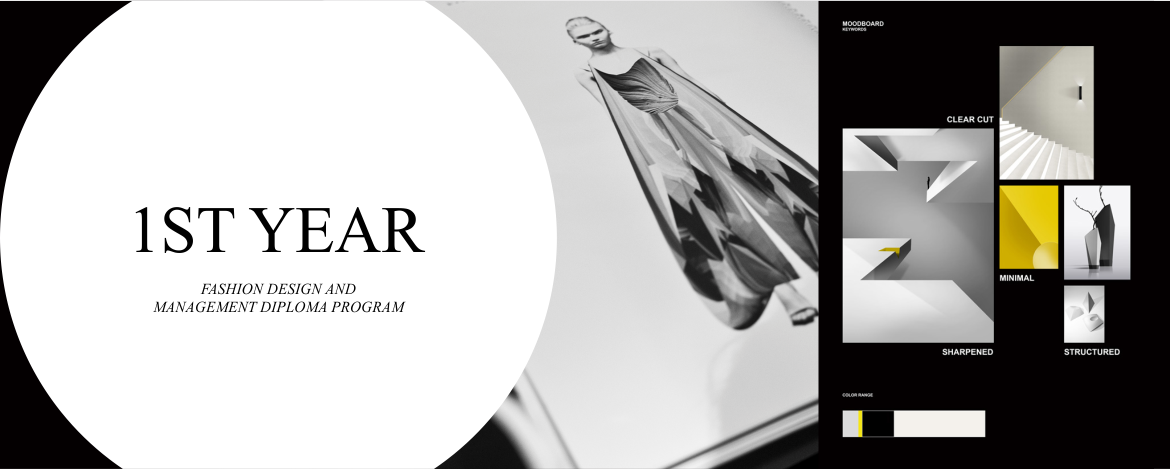 1ST YEAR CURRICULUM
September– June
1/ BASIC TECHNICAL DRAWING
2/ FASHIN SILHOUETTE DRAWING
3/COLORS / A BRIEF INTRODUCTION TO COLOR THEORY / DETAILED COLOR SCALE CONSTRUCION
4/FASHION DESIGN PROJECTS: SKIRT / SHIRT / DRESS
5/MODELING PROJECTS: SKIRT / SHIRT / DRESS
6/DRAPING 1
7/CREATING A COLLECTION
8/TEXTILE AND FABRIC TECHNOLOGIES
9/PRINTING AND FABRIC DESIGN 1
10/FASHION HISTORY AND CULTURE
11/COMPUTER AIDED DESIGN - ILLUSTRATOR, PHOTOSHOP, COMPUTER AIDED PATTERN DESIGN
12/FASHION MANAGEMENT AND MARKETING 1
13/INTRODUCTION TO VARIOUS PROFESSIONS IN FASHION, INCLUDING STYLING, EDITORIAL WORK, PRODUCTION SUPERVISION, STORE MANAGEMENT, ETC.
Focusing on the creation and production of personal models, the first year of education involves preparation for the competition projects organized in collaboration with various fashion brands, as well as factory, museum and fair visits.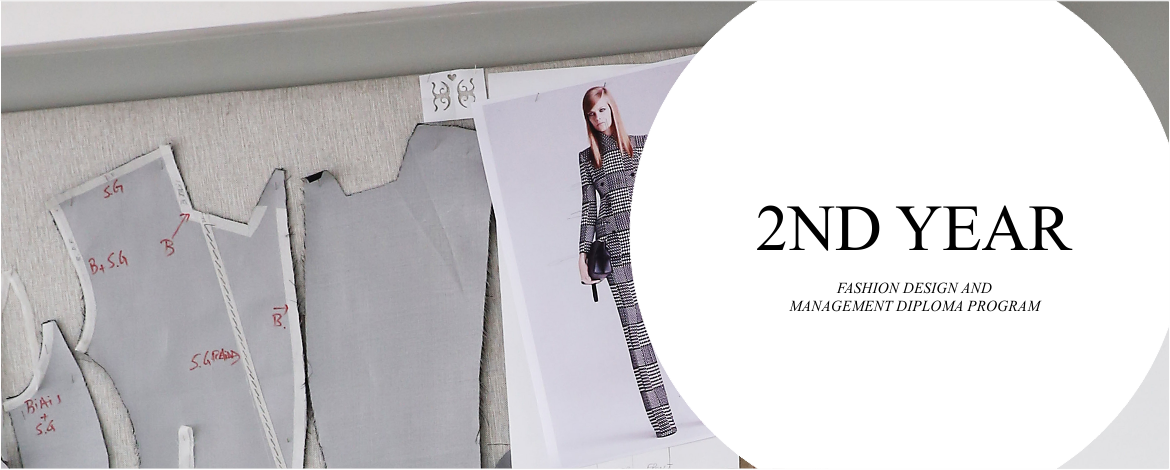 Students attending the 2-year Certificate Program create a small capsule collection during the year, which is presented at a fashion show at the end of the year.
2ND YEAR CURRICULUM
September - June
1/ FASHION DESIGN PROJECTS: JACKET / SUIT
2/ MODELING PROJECTS: JACKET / SUIT
3/ DRAPING 2
4/ FASHION MANAGEMENT AND MARKETING 2
5/ COMPUTER AIDED DESIGN - COMPUTER AIDED PATTERN DESIGN TRAINING
6/ COLLECTION PLANNING AND METHODS
7/ PRINTING AND FABRIC DESIGN 2
8/ APPLICATION METHODS
9/ TRENDS, THEMES, CONCEPT ANALYSIS AND OUTLOOK IN COLLECTION CREATION
10/ APPLICATION OF TECHNICAL KNOWLEDGE TO SPECIFIC PRODUCT GROUPS
11/ CREATION AND PRODUCTION OF PERSONAL MODELS
Students prepare for competition projects organized in collaboration with various fashion brands. Factory, museum and fair visits are organized.
At the last year of the Fashion Design and Management Diploma Program, focused on the preparation and presentation of collections, students work within the guidance of their instructors, but more independently. Five different juries consisting of experienced industry professionals closely follow up the work of the students throughout the year and help them develop their collections. At the last year, students are also required to plan the marketing stage of their collections. Within the program, each student is required to have completed their target audience analysis, determined their sales points and prepared their starting budget plans and marketing strategy before presenting their collection.
3RD YEAR CURRICULUM
September - June
1/ SPECIALIZATION IN A SPECIFIC FASHION PROFESSION SUCH AS WOMEN'S, MEN'S OR CHILDREN'S WEAR, LINGERIE, BEACHWEAR, KNITWEAR OR ACCESSORY DESIGN
2/ DEVELOPING YOUR PERSONAL CREATIVE WORLD
3/ MARKETING AND COMMUNICATION MANAGEMENT OF THE SPECIALIZED COLLECTION PROJECT
4/ PREPARATION OF THE COLLECTION PROJECTS WITH REGARD TO THE STYLE FILES AND MARKETING STUDIES
Student collections are presented at a fashion show held at the Vakko Fashion Center. A two-month internship at a Vakko company reinforces the theoretical training. Successful collections are sold at stores of various Vakko companies, and exchange study opportunities are presented at 22 ESMOD schools in 14 countries around the world. Students also have the opportunity to attend the Master's programs at ESMOD's Paris, and Geneva schools.
Instructor: Dominique Boillot- Fashion Design
Dominique Boillot has been Fashion Design Instructor at Esmod Osaka, Esmod Roubaix, Esmod Damascus and Esmod Tokyo. Boillot has been Collection Manager for the brand BELLEZA CLUB JAPAN/BROTHER (Tokyo) and Fashion Designer for the brands Alain BOIX, SAINT CLAIR – DANIEL HECHTER (Paris), Assistant Designer for FRANCE ANDREVIE and Eliane BRETHES Fashion Office (Paris). French being her native language, she additionally speaks English and Japanese.
Instructor: Aycan Başoğlu– Fashion Design
Aycan Başoğlu is the founder and creative director of the brand whiteset6. She has studied Sociology at METU in the years 2001-2005 and continued her education at Strasbourg University, France. In 2007 she graduated from the same university and received her Masters Degree at the department of Sociology. After completing her education she returned to Turkey to pursue her career. In 2013 she graduated from Vakko Esmod Fashion Academy Istanbul with a Golden Needle Award. Upon her graduation she began working with various designers. She is currently working in the sector as designer and also pursuing her career as book translator.
Instructor: Jasmina Benferhat - Pattern Making
Jasmina Benferhat is an Esmod Paris alumna. She has been Pattern Making Instructor at Esmod Munich, Esmod Jakarta and Esmod Berlin for 26 years. In the academic year 2018-2019 she is lecturer at the Universität der Künste Berlin. Since 1998, she has been developing Freelance products for various brands in Berlin such as Bernadett Penkov, Sisi Wasabi, Frida Weyer, Frida Weyer for Meissen Couture, C'est tout and Maisonnée. Being guest lecturer for draping courses at SAADA University in Shanghai in 2011, Benferhat has taken part in various projects from Berlin to Nairobi. In the "African Designers for Tomorrow" project in 2015 in Nairobi, Benferhat has individually counselled participants in preparing designs, cutting and developing details. Throughout her coaching as Pattern Making instructor at Esmod Berlin, Benferhat has taken part in various projects such as "Beyond Seeing" in collaboration with Goethe Institut. German and French being her native languages, she additionally speaks English and Arabic.
Instructor: Yeliz Korur - Pattern Making
Yeliz Korur has graduated from Bilkent University department of Tourism and Hotel management in 1997. In 2014 she entered Vakko Esmod Fashion Academy and completed her Fashion Design & Creation diploma degree in 2017. In the years 1998-2010 she worked in a management role at the Planning-Buying-Logistics departments of AY Tekstil. Throughout her education at Vakko Esmod Fashion Academy, she pursued her designer assistant role at designer Çiğdem Akın. Turkish being her native language, she additionally speaks advanced English and beginner level French and Spanish.
Instructor: Begüm Başoğlu Öner –Fashion History and Culture
After graduating from Istanbul University Department of Italian Language and Literature, Başoğlu has studied Fashion History at Istituto Europeo di Design in Milano. Since 2005 she has been Curator of Vitali Hakko Creative Industries Library. She has been giving classes about Fashion Culture at Vakko Esmod Istanbul. Başoğlu has contributed translations in academic fashion publications and published a book called "Sade" written with Ege Erim.
Instructor: Metin Gürsoy–Fashion Management
Metin Gürsoy, graduated from Bogazici University, is known as doyen of Fashion and Luxury Branding in Turkey. Since 2009, he has been serving as the Communication Director for Hermes in Turkey under the title of Marketing, Public Relations and Media Procurement. His own company, METINGURSOY PR & MARKETING, was established in 2003 and operates in the field of Public Relations, Marketing and Brand Consulting. In the early years of its establishment, many well-known Turkish fashion designers such as Arzu Kaprol, ESAS-Swiss Men's Clothing Company and Kenzo Brands were presented in his customer portfolio. As of 2004, he has been serving to Apple and Absolut brands as well. He launched many more brands in Turkey during his career. Over following years, the international restaurant chain Sushico and the retail chain Bun Design Company has joined to his portfolio. In the same years, he worked with many Turkish companies such as BNG, Saydam Textile, Yazbukey, Bossa and TooHot. Companies like Profilo, Decorum, Fast Gym, Istanbul Mine Exporters Association (IMIB), Borusan Oto and Davidoff have been added to the customer portfolio about Corporate Communications. He had worked for Turkish jewelry brand Gilan and Turkish ready to wear clothing brand Gizia. Metin Gürsoy and his team serve to the leading brands of industry with 360 degree Marketing, Communication and Public Relations. These services include Brand Positioning, Underline and Above Advertising Services, Public Relations, Organization Management, Media Purchasing, Visual Editing, Guerilla Marketing and Social Media services. He also works as a journalist, writes articles about Turkey for foreign editions such as Guardian, Paris Match, ELLE and DN Sweden in Turkey.
Instructor: Elif Sülün –Photoshop/ Illustrator
Instructor: Sibel Ege – Fabric Technology
Ege graduated from Textile Engineering Department at Istanbul Technical University in 2003. She completed her MBA at Koç University in 2008-2009. Ege started her career as Customer Responsible at Modatimkar in 2003 and moved to GAP as Merchandiser in 2006. Meanwhile she has provided service to various international brands such as Topman, New Look, River Island, Banana Republic, GAP and Old Navy about fabric, textile and confection. In 2007-2010 Ege has pursued her career as Outerwear Manager at Vizyon Deri (Leather). She has created her own fabric supply company REN Sourcing in 2010. Currently she provides services to various companies, both local and international.